Welcome!

The Sioux Falls Roller Dollz is a skater owned and operated, 501(c)(3)
non-profit organization and a member of the Women's Flat Track
Derby Association (WFTDA). We work together as a league to
empower women and enrich our community through competitive sport.
---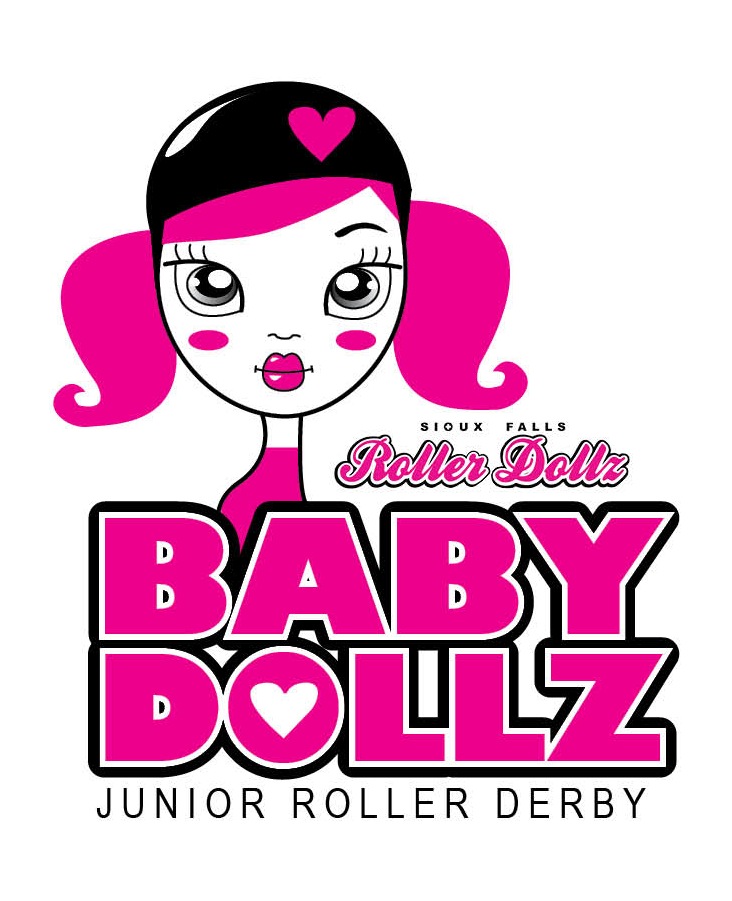 Get your boys and girls involved with a sport that will never get boring!
"The Sioux Falls Baby Dollz mission is to empower boys and girls ages 7-17 to feel confident while helping develop their talents in a team atmosphere. The Baby Dollz teach skating and roller derby with an emphasis on safety. In addition, The Baby Dollz incorporate lessons which will not only introduce and foster character building concepts but also teach and encourage healthy fitness habits."
Fall 2015 Session Starting Soon!  
Be your own hero: play roller derby! The Sioux Falls Roller Dollz are gearing up for their annual Summer Rookie Boot Camp, and we want YOU to join us!
The Sioux Falls Roller Dollz are a non-profit organization in Sioux Falls comprised of men and women of all walks of life. We were South Dakota's first women's roller derby team and proudly represent Sioux Falls and the state of South Dakota in the national and international roller derby community. Since the Roller Dollz started in 2006 we have donated over $50,000 to Sioux Empire charities and have literally traveled the world to compete.
Joining the Roller Dollz is a fun way to get in shape, meet new friends and have the opportunity to play competitively across the country. Our Summer Rookie Boot Camp is the best opportunity to join: complete our 6-week boot camp and learn everything you need to know about skating, safety, strength training and how to play roller derby.
The first day of Rookie Boot Camp will kick-off with an informational meeting and demonstration on Wednesday, May 27th starting at 7:00pm (make sure to bring workout shoes and skates if you have them!) Meeting and subsequent Boot Camp classes will be held at the Armory Building at the W. H. Lyons Fairgrounds. Here is a link to a map of the area:  http://www.siouxempirefair.com/expo-fairgrounds/map-and-directions
Summer Rookie Boot Camp is open to adults aged 18 and older who wish to join as either skaters or referees. Curious about what the Roller Dollz are all about? Check out our website, www.RollerDollz.com, and click on the link "Become a Doll!" to learn more about required gear and other rookie info.
The Dollz wrapped up another exciting Bacon Fest on April 25th! The event is a celebration of all things bacon, centered around a highly competitive cook-off where all entries are required to have bacon as their central ingredient. From sweet to savory, each year brings in a variety of creative and delicious dishes. This year's 8 entries tantalized everyone's taste buds, but only a small group of dishes are crowned best in show.
Winners for the 2015 Bacon Fest Cook-off:
 1st Place, Cleocatra with her Bacon Beer Cheese Soup
2nd Place and People's Choice, Destructive D-Lite and Pain Maker with their Popping Bacon (?)
  3rd Place, Rookie Jackie Sorenson with her Bacon Wrapped Smokies
Aside from the great bacon entries, attendees enjoyed pizza provided by Zesty's, the American Legion's signature "build your own Bloody Mary bar" (complete with bacon crumbles!) and Krsipy Kreme doughnuts. Kids were having a blast with Bacon Limbo and the bacon coloring contest.
The true highlight of the event was of course the bacon eating contest: the chance for hardcore bacon fans to see who can eat two pounds of bacon in five minutes. This year's triumphant winner was the Dollz' own Puddin' who woofed down all his bacon with just seconds left on the clock.
The Dollz would like to thank everyone who came out to Bacon Fest, as well as send an extra special thank you to our judges – Jill Callison from the Argus Leader, Phil Schreck from KSFY, Chris Tubbs from KSWN Sports Radio, writer/director Dominic Wienekes, and Cade from the KRRO radio show.
Special thank you to our amazing sponsors for helping make this event such a huge success, especially the American Legion for letting us take over and the Meat Lodge for their generous bacon donation – clearly the best place for bacon in town!
Sincerly,
Sioux Falls Roller Dollz
Author Credit: Julia Wild
Photography by: Mamarazzi