Board of Directors
---
Chairperson:
FistHerElla
Meet our new Chairperson, FistHerElla. Bio coming soon!
---
Vice-Chairperson:
Julia Wild
Julia Wild joined the Dollz in Season 2 and has been involved as a skater, referee, and board member ever since. Julia has had the honor of representing the Dollz around the world, from Nevada and Colorado to Florida and the United Kingdom! When not on the track, Julia also represents the Dollz as a WFTDA representative in the Marketing Committee. Julia also works with the Sioux Falls Baby Dollz/SoDak Attack, our junior roller derby league, as a referee and coach.
Outside of roller derby, Julia works days as a Marketing and Training Coordinator for a national HVAC cooperative, and nights creating paintings and cartoons as a free-lance artist. She is looking forward to becoming a licensed radio technician in 2017!
In all things, Julia is cheered on by her biggest fan, her boyfriend Dusty, and her second biggest fan, her pug Robocop.
---
Secretary & HR Director:
Cinda Rolla
Cinda joined the Roller Dollz in Season 8 and joined the Board of Directors soon after. She served as Events Director before stepping into the role of Secretary & HR Director in 2016. She also serves the league as Head of Charity, WFTDA Skater Rep, Coaching Committee, and on the Zombie Walk Committee as well as in a variety of jobs with the league including Volunteer Management, Track Setup, Website Admin, and helping with Social Media.
Cinda, a former music teacher, currently dedicates her time to her 4 children full time as a homeschooling mom, an autism advocate, and a grandma. She's not good at sitting idle so she enjoys the work she does for the league behind the scenes, and likes being able to put her organization skills and attention to detail to good use!
Off the track, Cinda enjoys spending her "free time" playing her ukulele, knitting or crocheting, painting, sewing… just about anything to feed her creative side!
---
Finance Director:
B.A.C.
B.A.C. joined the Roller Dollz during Season 5.5 as the league was preparing to go to England to play games against three different English teams. During her career with the Dollz she has been a WFTDA Rep, Team Captain, Interleague Coordinator and Finance Director for the league. She has been on the Board of Directors for a number of years, as Interleague Director initially, and was elected for the position of Finance Director at the beginning of 2016.
B.A.C. joined the league to meet athletic people and to stay active. She grew up rollerblading so she had the basic mechanics of skating on quad skates when she started.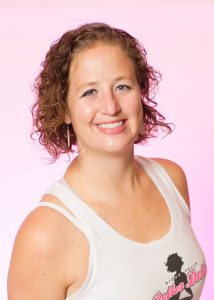 ---
Marketing Director:
Maully Ringbrawl
Maully joined the league in Season 9 as a skater and joined as a board member just a few short months after that. She oversees all league marketing and promotions including social media, advertising, and brand management.
When not doing derby, Maully works as a project manager for Matt Jensen Marketing and volunteers as a host family for Safe Families in Sioux Falls. She loves to discover how other people's stories can impact her own ​and never grows tired of trying new things​. Maully is always in motion and enjoys everything she does. She is always searching for the bright side.
​On the track, she is cheered on by her "person" (oh, did we forget to mention, she's a BIG Grey's Anatomy fan), KT Hughes.
---