Saturday, April 28th – Sioux Falls Roller Dollz vs MedCity Mafia
---
---
TICKETS:
General Admission: $12 each
Kids 10 and under: FREE!
Groups Discounts & Early Bird Pricing Available!
---
---
APRIL CHARITY:
Bikers Against Child Abuse, Inc. (B.A.C.A.) exists with the intent to create a safer environment for abused children. We exist as a body of Bikers to empower children to not feel afraid of the world in which they live. We stand ready to lend support to our wounded friends by involving them with an established, united organization. We work in conjunction with local and state officials who are already in place to protect children. We desire to send a clear message to all involved with the abused child that this child is part of our organization, and that we are prepared to lend our physical and emotional support to them by affiliation, and our physical presence. We stand at the ready to shield these children from further abuse. We do not condone the use of violence or physical force in any manner, however, if circumstances arise such that we are the only obstacle preventing a child from further abuse, we stand ready to be that obstacle.
Receive a $3 discount on your ticket purchase when you bring a denim jacket, a teddy bear, or a set of white/off white pillowcases!!
One discount per ticket
CONCESSIONS:
Concessions for this bout are still open!
Contact Bout Production for details!
---
SEASON 12 ANNUAL CHARITY:
Habitat for Humanity is this season's annual charity!
As our annual charity, the Roller Dollz will be going above and beyond Habitat's program by raising funds to provide things for our family such as school supplies and Christmas gifts, and hope to help cover the costs of moving and getting set up in their new home!
Habitat for Humanity of Greater Sioux Falls builds and preserves homes with people in need who might not have a secure, safe home another way. We have built or rehabilitated over 150 homes since our inception in 1989, helping 231 adults and 602 children! We have completed over 150 Neighborhood Revitalization and A Brush With Kindness projects since 2010. We serve the counties of Minnehaha, Lincoln and Turner.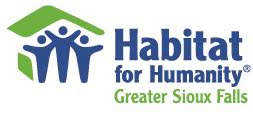 50/50 raffle proceeds from this season's bouts will go towards sponsoring their build!
---
ROLLER DOLLZ ACTIVE WOMEN PROGRAM:
As active women, the Roller Dollz support women getting active and healthy. Not all women have access to appropriate athletic wear and we want to help them overcome these obstacles, as well as support them with various health and fitness resources. We are collecting donations of sports bras and athletic shoes to help bridge this gap for women in the Sioux Empire. Your donation of these, or other fitness items, will be distributed to area women via connections with a variety of local organizations who will help us identify those in need. This program will hopefully extend beyond this season and for years to come! Help us make it a success with your donations of items or funds to purchase items! If you are interested in learning how you can further supporting these efforts, please contact us at Charity@rollerdollz.com!
Receive a $3 discount on your ticket purchase when you bring a NEW sports bra or gently used athletic shoes!
One discount per ticket
---